Next:
Ab-initio Calculations of Critical
Up:
Work Accomplished in 2002
Previous:
Numerical study of large
Work in progress, plans
We have found a generalization of the method for problems involving several oscillators.
We are planning to apply it to the problem with . In two limits ( where the two Fourier modes decouple and where ) we have an additional constant of motion.
By increasing the energy, we can observe bifurcations in the stability of periodic solutions illustrated below.
We plan to study this classical instability in terms of small denominators appearing in the perturbative series. We plan to study its quantum counterpart (degeneracies) perturbatively and confront this study with numerical results.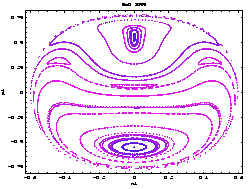 Figure 7: Poincaré sections for E=0.3055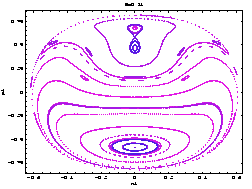 Figure 8: Poincaré sections for E=0.34

---
Yannick Meurice
Tue Dec 10 22:51:23 CST 2002